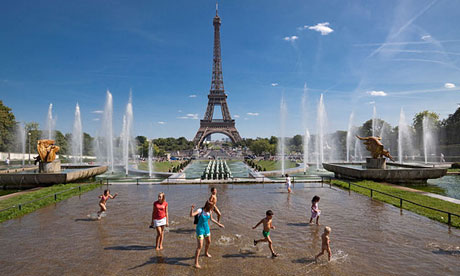 Travelling with children can be both a challenging and an amazing family holiday experience.  A time where you can all look back fondly on the many holiday memories you have created.  Hopefully the good memories outweigh the difficult ones – and yes there will be times where your sanity will be tested!  Flying halfway around the world and looking forward to a great holiday experience takes a lot of pre-planning to ensure a smooth journey once you have landed on solid ground. Here are my tips for surviving international travel with kids once you step off the plane.  This is part two of surviving international travel with kids, if you need more information on travelling on long haul flights with kids then check out How to survive international travel with kids: part one of this series.
Be organized
Make sure that you book accommodation in advance especially during peak tourist season. Don't be tempted to find accommodation spontaneously when you land at your destination.  In reality you may not get what is suitable for your family's needs if it's a last minute search.
The same goes for tickets and tours, either book online in advance for priority access or jump the queues.  There are usually selling points for jumping the queues at major tourist attractions, it will cost you a little extra to do this but spending far less time in a queue will stop kids from boredom and leaving you more time to do other things.
Eating out can be rather expensive for a family and even breakfast can be a costly meal and in my experience breakfast is a costly affair!  Hotel breakfasts can be very expensive and a full buffet can be a waste of money for kids who will only eat a bowl of cereal or a piece of toast. If you stay in a Hotel, check if they offer complimentary cereal for kids.
Stay in an apartment or at the very least a Hotel that has some kitchen facilities, that way you can plan to have breakfast in your apartment/room, saving you some time and money.
Research places where your kids would enjoy meals, especially if the cuisine is something very different to what they are used to.
Include kids in plans and decisions
Make it all about the kids, include them in any plans and ask them what they want to see and do whilst on holidays. My two kids both wanted to see Disneyland Paris and when in London the Harry Potter Studios. Other than seeing the Eiffel Tower and Big Ben, they really didn't know much about what to see in Europe.  So I gave them a list of things that we could do and they chose what they thought they would like the best.
Give them some financial freedom! Let them have some spending money to use on whatever they like. My kids bought Eiffel tower keychains every time they saw the walking vendors! They couldn't get enough of the little trinkets to take back to Australia and give to their friends.
Reality checks
Prepare them for what they might encounter such as street hecklers, the fact that winter in Europe is extremely cold or Rome is extremely hot in summer.
Teens and sleep! Teenagers love and need their sleep, especially, teenage boys. I found that getting two kids up in winter, in Europe, before the sun is up is no easy feat, Sunrise was usually around 8.30-9.00 a.m. So a compromise is to allow a day here or there when your day starts a bit later. It's all about compromise and flexibility. I'm not talking of letting them sleep until lunchtime but at a reasonable time in the morning. They will be less grumpy and they will be less likely to complain if they know there will be a day here or there that they can sleep longer.
Itinerary
Don't overload your itinerary. Young kids get tired easily and walking long distances may not go down to well.
It is important to have a plan for the day.  As long as you have discussed what the next few days plans are and what is required of your child (i.e lot's of walking, behaviour etc) then they will have a bit of time to get used to an idea.  When I mentioned shopping, my son gave me the eye-roll, when it came to walking a distance, my daughter gave me the eye-roll. But making sure they understand what is happening and the time frame the activity would take they warmed to those ideas.  I did manage to get my two teens on the merry-go-round looking out to the Eiffel tower. They were a bit hesitant thinking it was childish but it soon became a "selfie" fest! I couldn't get them off!
Step into their world
Join in their fun, from ice skating to going on rides at theme parks! It goes both ways and what they consider fun you might consider terrifying! My two wanted me to go on some rides at Disneyland and I have been terrified of rides for a long time now and somehow they tricked me into some of the rides but hey, what fun afterwards! Their delight in seeing me at the point of no return on a ride had them laughing when I actually realised it wasn't just a little joy ride!
Technology
Teens and technology can easily interfere with a holiday and if your kids are like mine and are lost without the internet, then you may find this aspect challenging. We did encounter a few times that when my daughters friends were online she was asleep and vice-versa. I didn't really have to make any rules in this regard as we were usually out each day and it became a nightly ritual after dinner for them to catch up on social media. I don't think banning social media is a good idea on a holiday but minimizing it is, as if they had their way they would sit on it all day.
Choosing Hotels with wifi was a big influence on where we stayed.
I made sure that my teens had pre-paid phones that I topped up prior to leaving. With us coming from Australia to the opposite time zone it wasn't too much of an issue not having access to the internet, as by the time we finished our day and had dinner most of Australia was asleep!
Negotiation skills
So you have arrived at your destination and you think that your kids will be happy to go along with anything you plan or suggest – after all you are the parent in control of this trip! Wrong! There will be lot's of negotiating skills required on your trip, on when and how you are going to do things. With kids there can be a lot of disagreements on what they want to do and you might here those inevitable words of "I want to go home or back to the hotel". My son got bored at the Louvre and pretty much bored with anything to do with art, whereas my daughter loved art. So planning your day way in advance is the best way to ensure everyone knows how the day is going to be spent and set guidelines.
Give your teens some control of what to do. My two are never without some electronic device in their hands. My daughter was on the look out for good photo opportunities she found on Instagram and we searched for the same spots that other people had taken photos at.
Public transport
Kids will love to ride on public transport, especially trains, so riding them often will be a novelty for your kids.
If you book in advance i.e Eurostar you can secure a family seat, there is 2 located on each carriage.
Getting on and off trains may be a struggle and even more so with little kids.  Believe me that navigating your way as a single parent in getting your kids on a packed train with luggage is no easy feat! Especially the London Tube in peak hour! Try and pick quieter times if you can for train travel but this is easier said than done though.  Don't be afraid to ask for help in getting luggage onto a train.  We received lot's of help without having to ask anyone, from carrying luggage up and down flights of stairs to pulling up luggage onto a train.
For some chill out time older kids will enjoy listening to music on long train journeys, so make sure they pack their head phones.
Crowds
Kids can easily get lost in crowds so have a contingency plan in place if you get separated.  Pre-warn your kids not to wander or run off at major tourist sites.  If you have little ones then get them to hold hands with each other especially if you are a sole parent traveller with more than two children.
 Food and drink
Carry at all times some water as kids will get very thirsty and walking around trying to find somewhere that sells water in, lets say a huge park will prove frustrating if you have to leave the park to find a shop or street vendor.  Pack little snacks in day packs for those moments in between meals.
Part 1 of this blog can be found here: How to survive international travel with kids: Part 1 which offers a comprehensive guide on flying with kids.