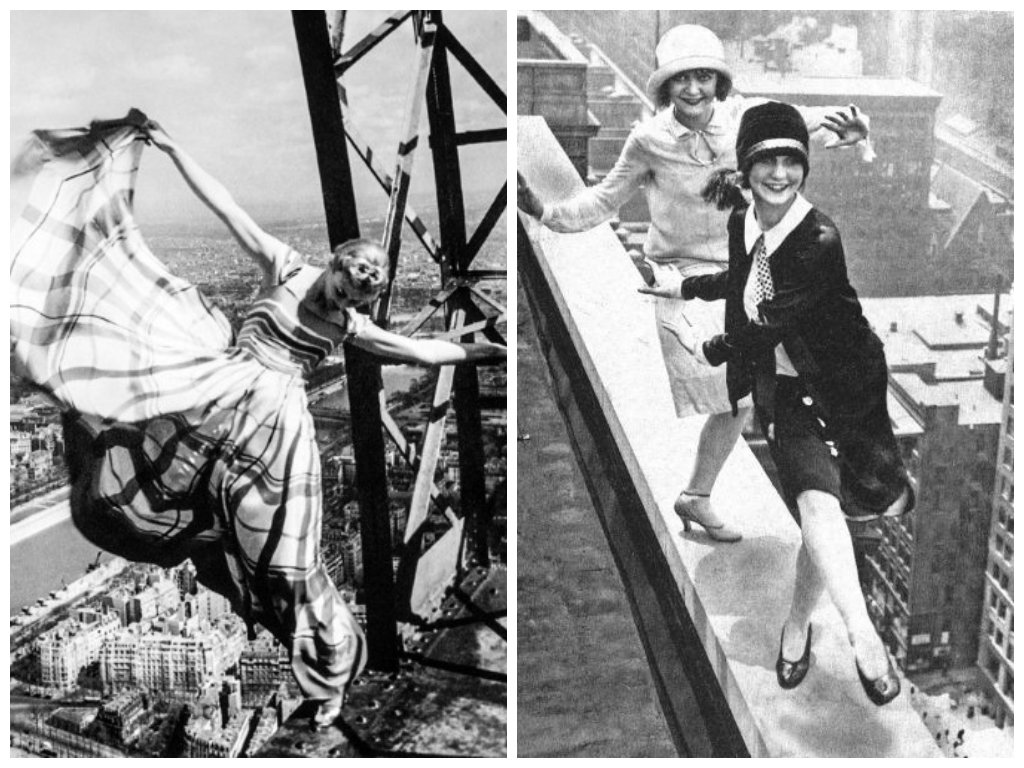 The ladies and gentleman of the 1930s where quite fond of scaling very tall buildings and photographing it for our enjoyment or perhaps for our jaw dropping astonishment.
These everyday citizens were the original 'sky walkers or roof toppers'. Sky walking is a phenomenon of recent times, where daredevil photographers risk life and limb atop buildings to take incredible photos of the skyline. Some hide their identity, whilst others are brazen enough to show their faces in this illegal activity. The selfie provides the evidence of where these extreme photographers have been.
"If you didn't get a photo, then it just didn't happen"
The catch cry of a socially connected generation is that if you didn't get a photo, then it just didn't happen. The same could be said of the incredible photos below. I'm pretty sure that we would never have believed that this kind of shenanigans went on in the 1930s without the photographic evidence.
The golden age of dangerous selfies certainly wouldn't have gotten past the authorities nowadays and after taking a look at the dizzying photos below, you can understand why.

Being a construction worker in the early part of the 20th century not only required working with steel but workers were also required to have 'nerves of steel'.
Fine dining with a view
"What do you think Frank, is it just me or have they gone a little over board with the industrial look".
This shot was taken as a publicity stunt for the Waldolf Astoria in New York, in the midst of it's construction. This may have been as close as these steel workers ever got to gracing the exclusive Waldolf Astoria.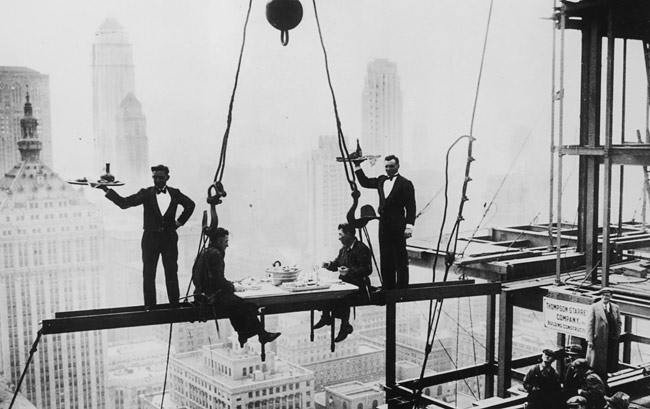 Being a caddy is dangerous business
"Like I said, I'm fine and all being your caddy but if I have to fetch another ball from the Bronx, I'm going to have to quit". Fred the caddy felt that the Bronx was just far too dangerous.
Photograph by Charles C. Ebbets as part of documenting the construction of buildings in New York during the 1930s.

 
Lunch atop a skyscraper
"Now if we all look inconspicuous the boss won't realise that we have stepped out for lunch".
Steel workers posing for a photo whilst taking a break from the RCA building work site in New York.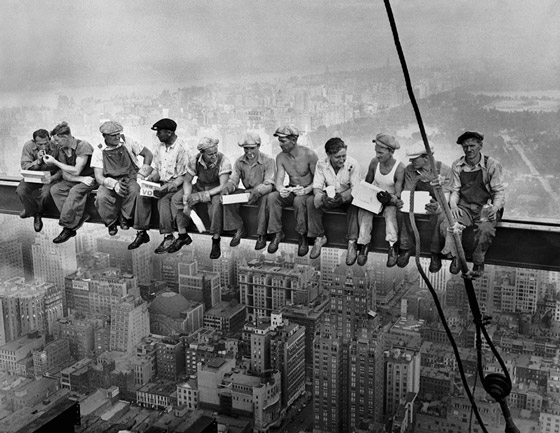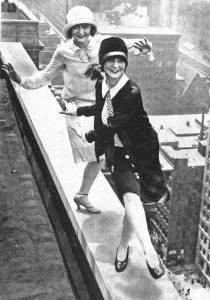 Then there are the ladies!
"Marg and lois soon found the perfect place to cure their two left feet, failure wasn't an option – others weren't so lucky".
These two flappers are steps away from danger as they Charleston their way on top of the Chrysler building in New York.
Parachutes are optional
"According to Vogue, wearing the right attire on top of the Eiffel Tower is a must. A dress that doubles as a parachute may come in handy, especially if it's a little on the windy side".
The Swedish super-model of the time, Lisa Fonssagrives being photographed by Erwin Blumfeld.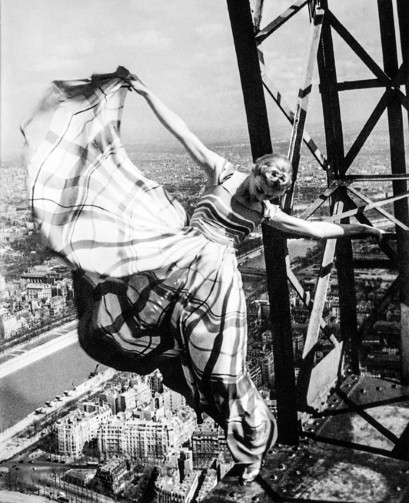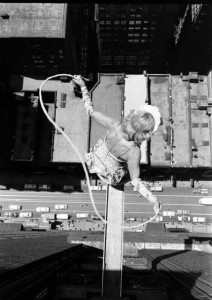 Skipping to the beat of your heart
"Patty proves that you can keep fit anywhere even in your lunch break. All you need is a skipping rope, a 70 storey building and the ensuing tachycardia will take care of the rest".
A publicity stunt where a circus performer attempts a skipping routine on a steel girder high above a New York Street below.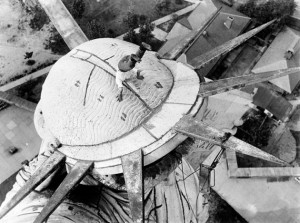 Showing off
"Going head to head with the statue of liberty. Mick was beginning to wonder if bootcamp has taken things a bit too far lately".
A steeplejack worker shows off with a handstand during the assembling of the Statue of Liberty on Ellis Island, New York.
The workplace gynamsium
"Bob's office building boasts a small gym with an impressive view. Bob's been a little edgy ever since he joined".
Acrobats doing a death defying routine on a New York building ledge.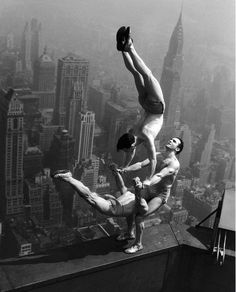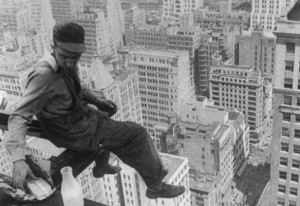 Getting some fresh air
"Percy decided that the tea room was a little noisy, so off he went to find somewhere he could relax and have calm, peaceful thoughts".
A construction worker eats his lunch, whilst seeming oblivious to any danger or the view of New York below.
A man and his camera
The man behind many of the iconic photos taken on various building construction sites. The original daredevil photographer Charles C. Ebbets took the same risks as his subjects when setting up these incredible snapshots of history.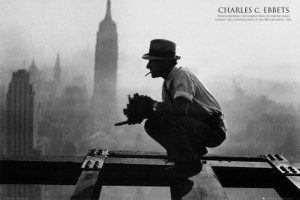 Modern day Skywalkers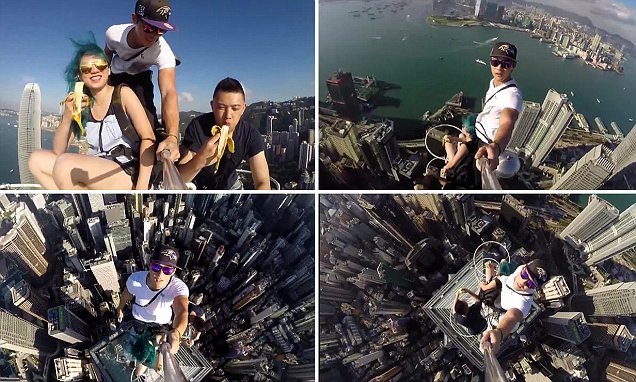 Billed as the world's most dangerous selfie, a trio take photos from the spire of Hong Kong's tallest building.