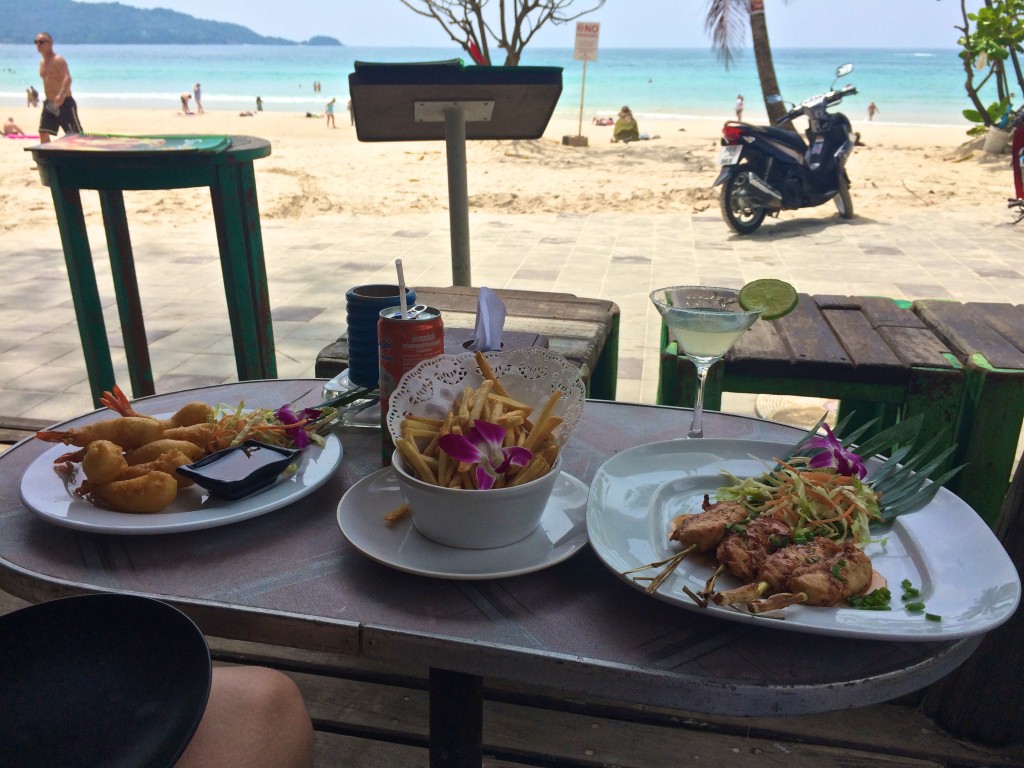 I love a place where you can walk straight in off the beach, fresh from a swim and sit down at a cafe for a bite to eat.  Where shoes are optional and brushing the sand off your feet right at your table is perfectly okay. A place where even lounging around all afternoon with a cocktail in hand never has you out-welcoming your stay.  One such place is the Sole Mio restaurant or the "Barefoot Beach Shack" as it once was called in a former life and it's location on Patong Beach has you effortlessly moving from a swim in the sea to a bite to eat in a matter of moments.
Normally I like to try a lot of different places when I am away but I loved this place so much that I became a regular lunchtime visitor – rocking up each day unannounced (because you can do that) for my feast of food and cocktails. Sitting on what was fast becoming "my couch" on the porch that looked straight out onto the beach. I didn't go in the evenings but the daytime crowd is relaxed, the vibe is chilled and with some cool tunes in the background – this place just couldn't be anymore perfect.
Sole Mio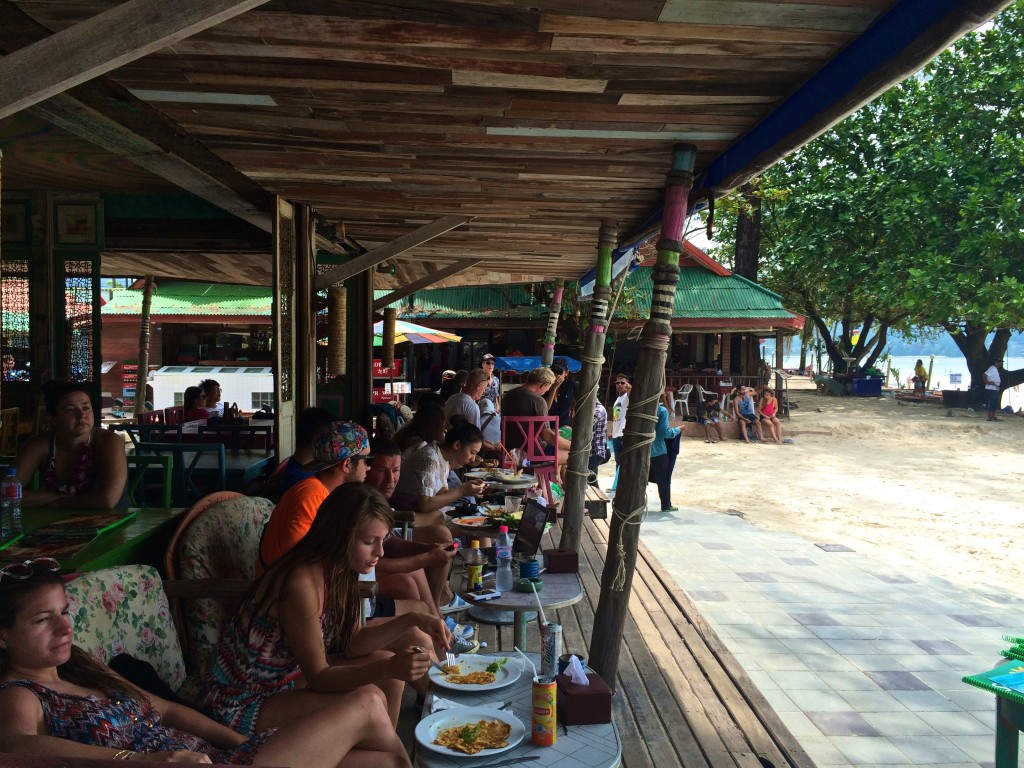 Sole Mio is certainly something unique in Patong, with it's cool shabby vibe, it's artistic use of recycled timber and the "out there"  bold colours. The restaurant's popular porch area will have you sitting on little two seater couches, each with a vintage floral fabric and a 1970s style coffee table. Step inside and you will find colourful tables and chairs, brightly painted wall fans and various artefacts throughout. Even when you are inside it still has an open feel to the restaurant, with many tables enjoying the beach view. In the background you can be chilling out to Jack Johnson or on other days depending on the waiters mood it might be a little more upbeat.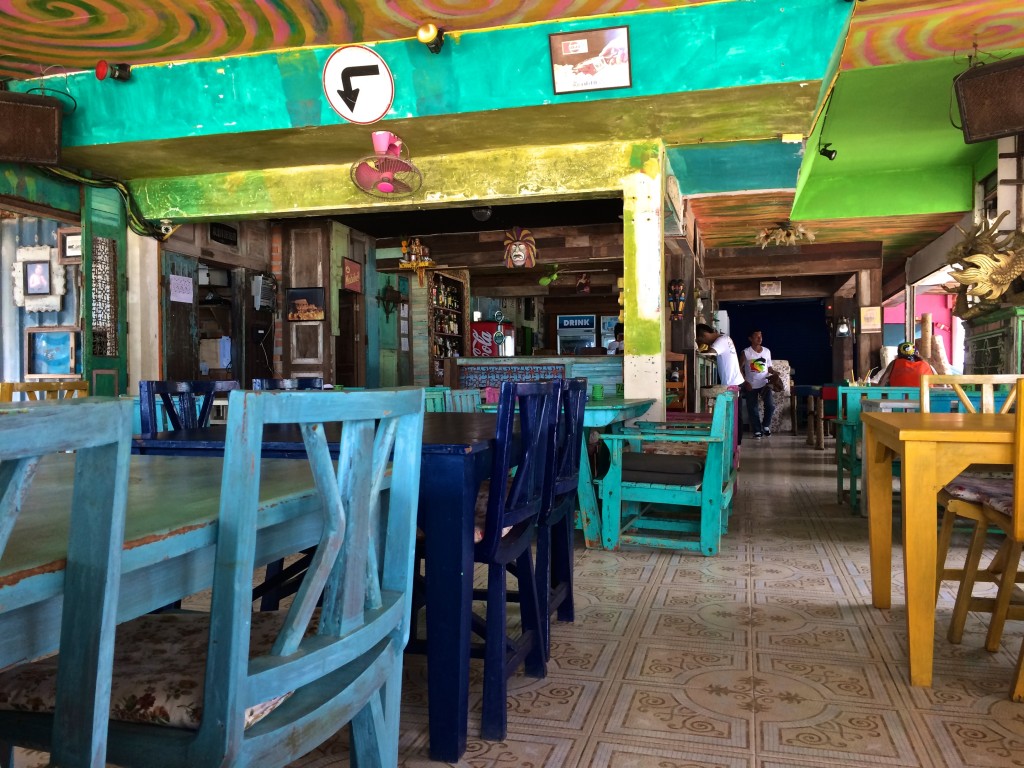 The Menu
What is a little deceiving and something I am often wary about is the pre-laminated photo menu of each dish, as this is often a sign of mass production straight from the freezer. Well not the case here, the food was freshly cooked and extremely good. The presentation is something the Thai's take pride in and you kind of get to expect a flower as part of your meal or the meal looking like a work of art. Gee even a bowl of chips is made too look classy!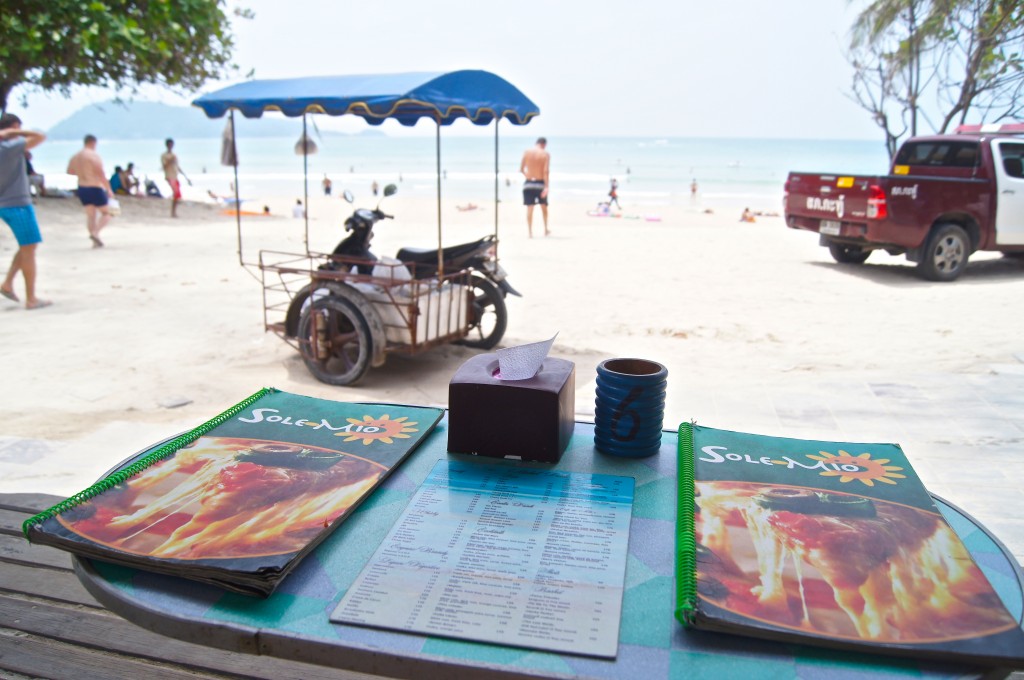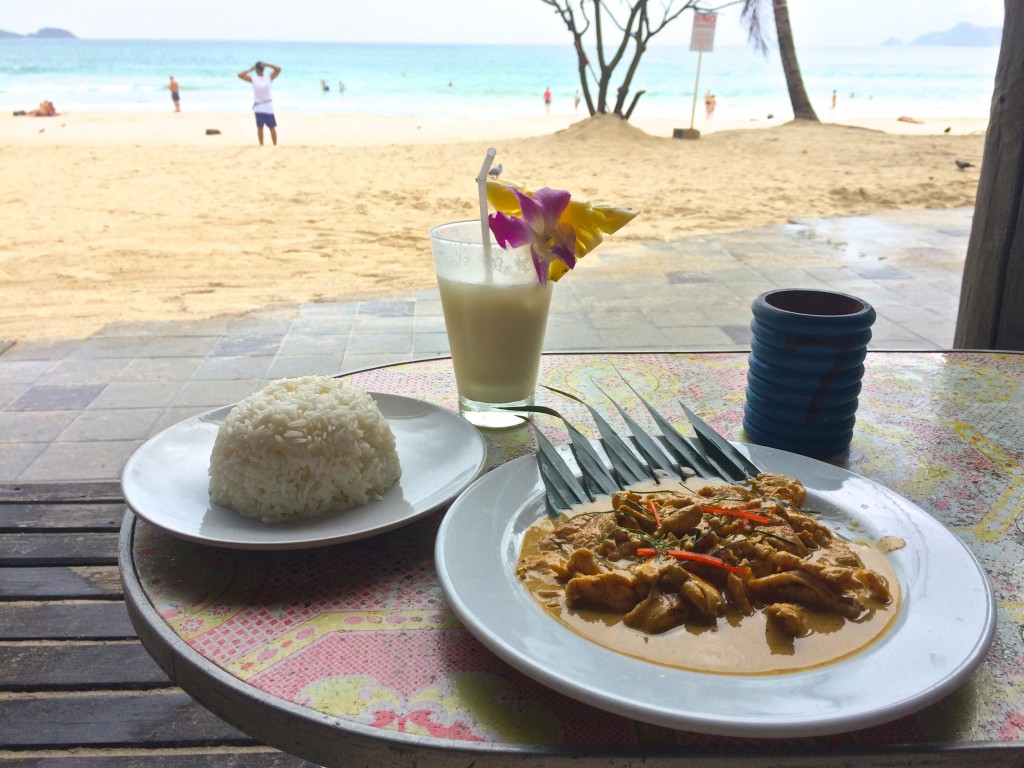 The menu caters for a broad range of tastes – serving both Western food and Thai food and at a very cheap price too. Two main meals, a bowl of chips, soft drink and 2-3 cocktails came in around 900 Baht or around $33 AUS/US dollars. So if you are on a budget and are looking for great food at a reasonable price then this place will keep you happy on both accounts.
Cocktails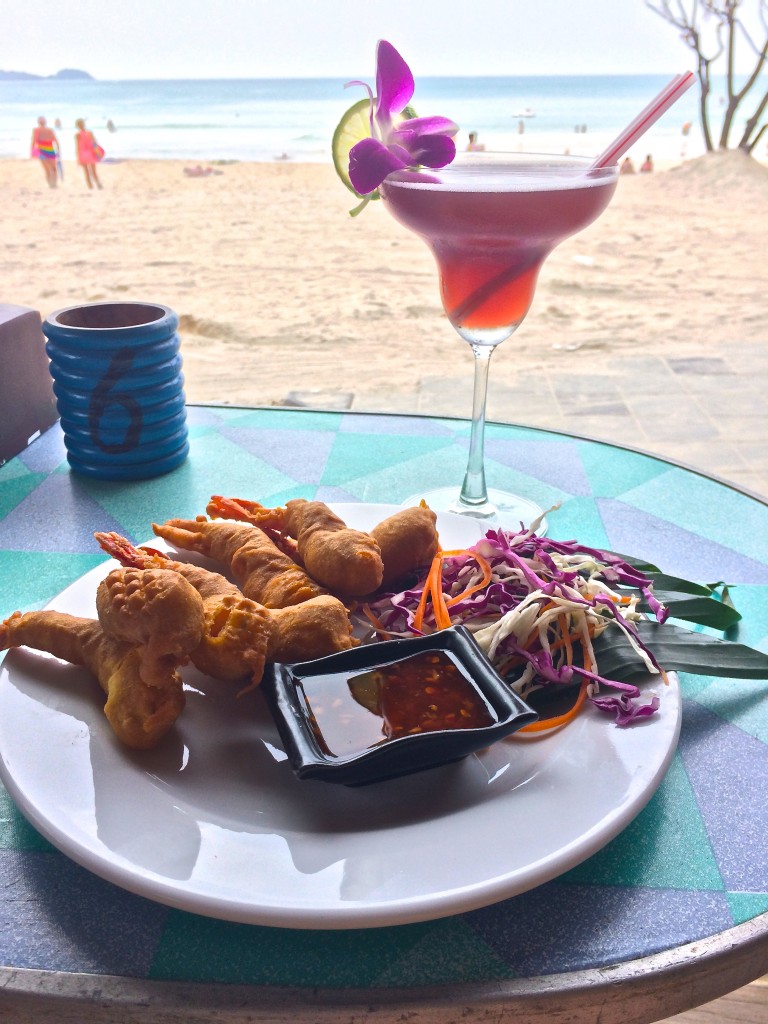 Even if you aren't going for the food, they do serve wonderful cocktails for 150 Baht which is around $5.5 AUS/US dollars. If you are wondering about the quality of the cocktails, then fear not, these are the real deal. You will soon realise after a couple of these that they do pack a punch to them. In fact they are so delicious it's quite easy to down a few during lunch and at such a bargain price it's hard not too! Just one word of advice though, be careful about having a few too many cocktails as the street sellers can be persistent when the waiters are not looking and you might end up with something you didn't want to buy. The waiters are quite good and if they find a seller setting foot in the restaurant, they will be quickly asked to move on.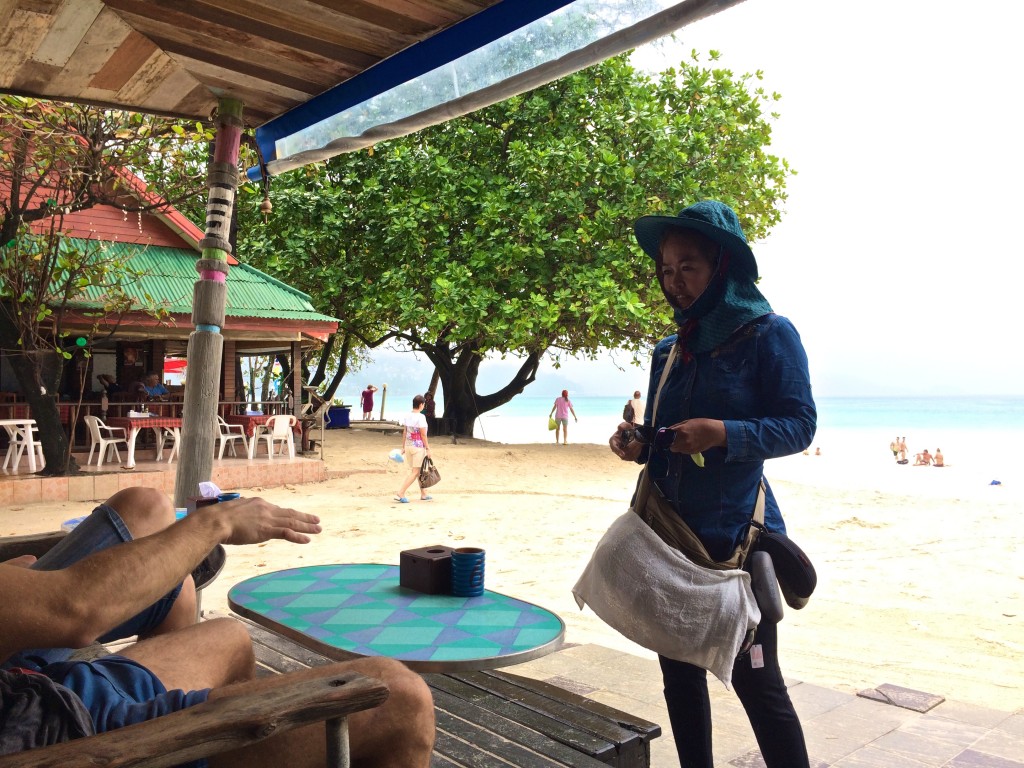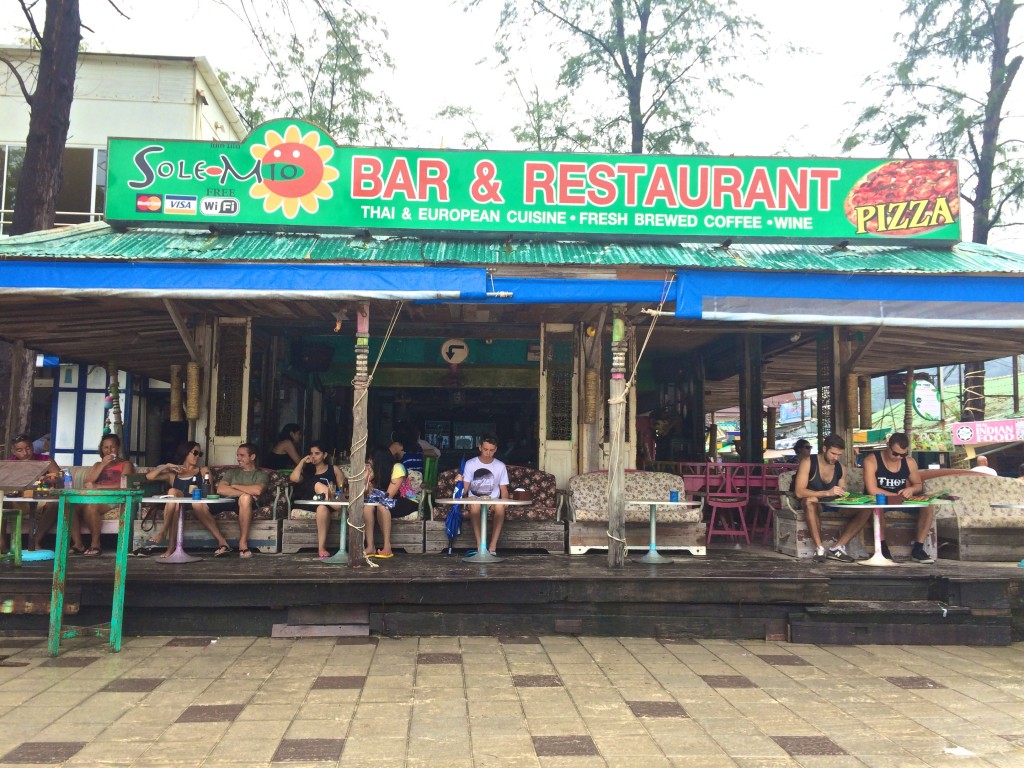 The Verdict
I totally loved this little restaurant and it's casual vibe. The food was excellent, the cocktails were fabulous and the staff were very accommodating and polite. After a couple of days the staff got to recognise me and would call out "hello" if I was walking past. All in all, it's a great place to relax and chill out for a couple of hours, eat, drink and listen to the music. Oh and the view is pretty easy on the eye too!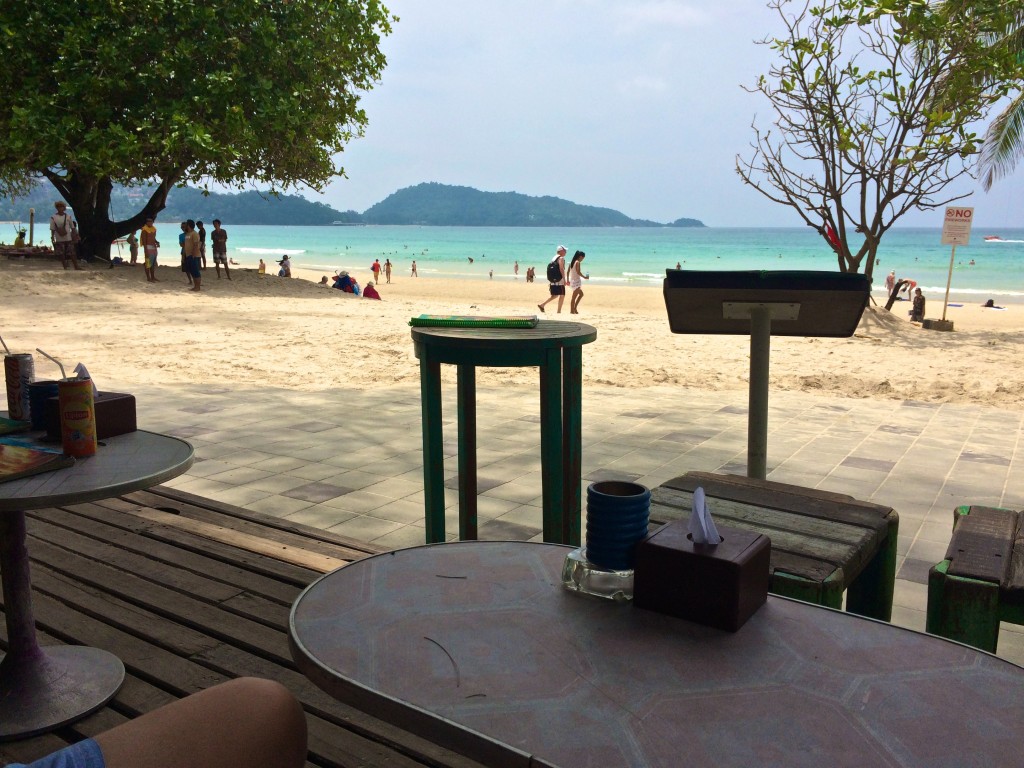 The bold colours and rustic doors at Sole Mio, Patong Beach.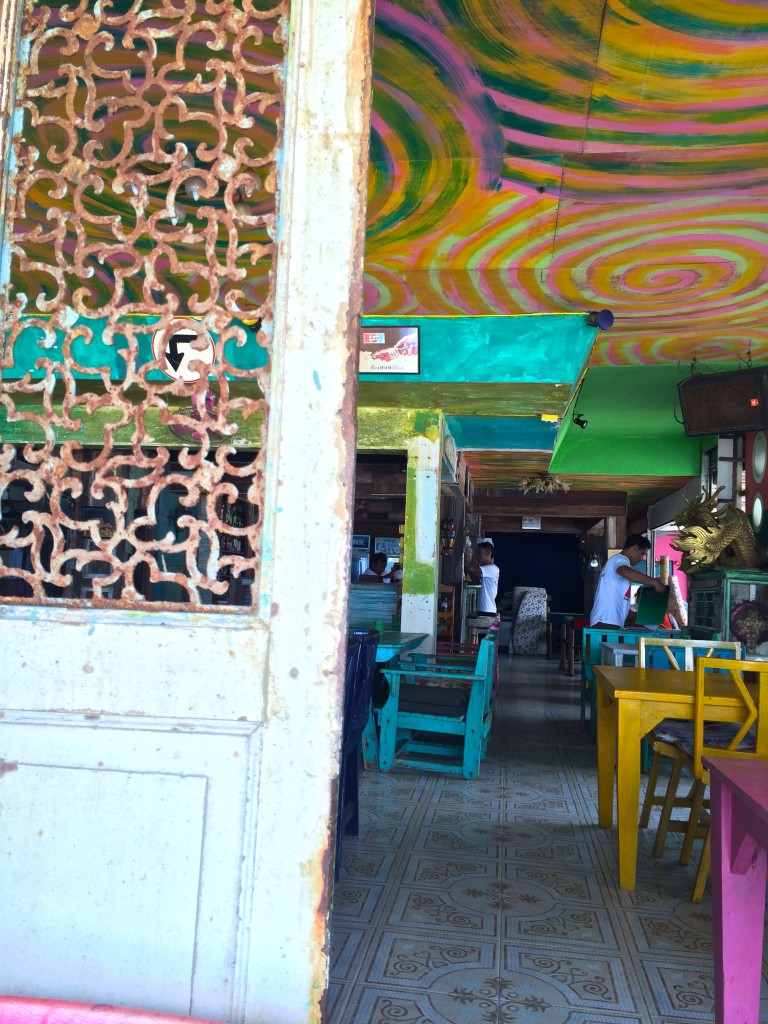 Lot's of recycled timber from the floor to ceiling.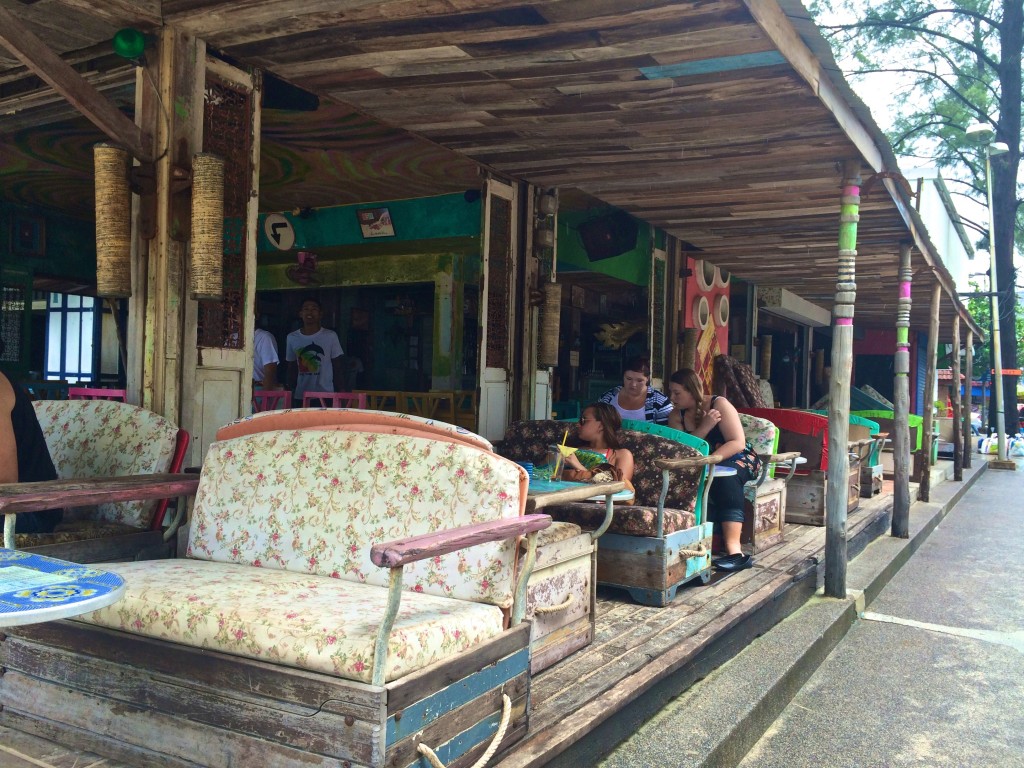 Comfy couches that is sand friendly.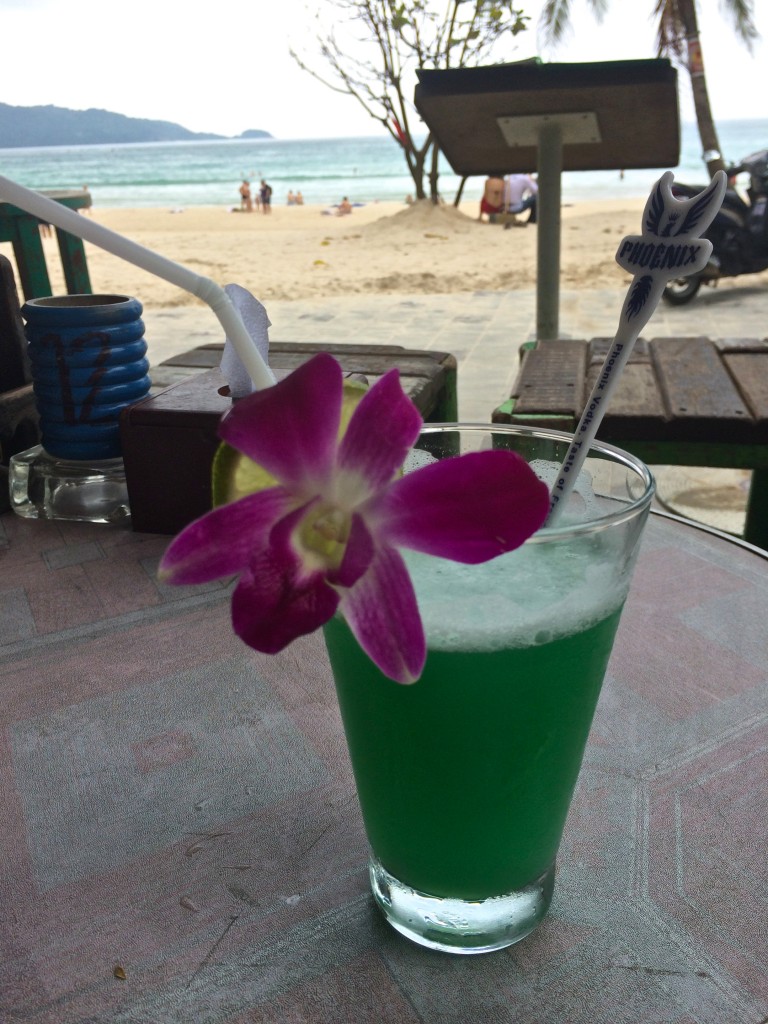 Sole Mio cocktail with a view and cocktail menu.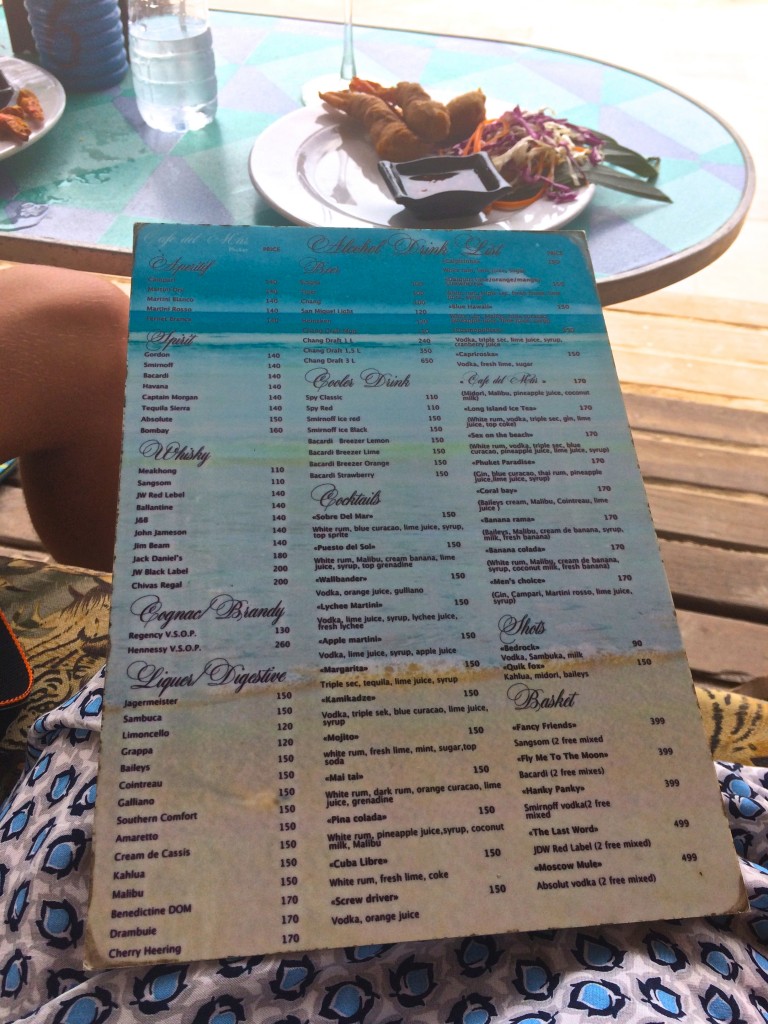 Where to find Sole Mio
Take a walk along Patong beach and halfway up you will find this little gem.
Patong Beach
Located at the end of Soi Loma, directly across Patong Beach Road, Thanon Sawatdirak.