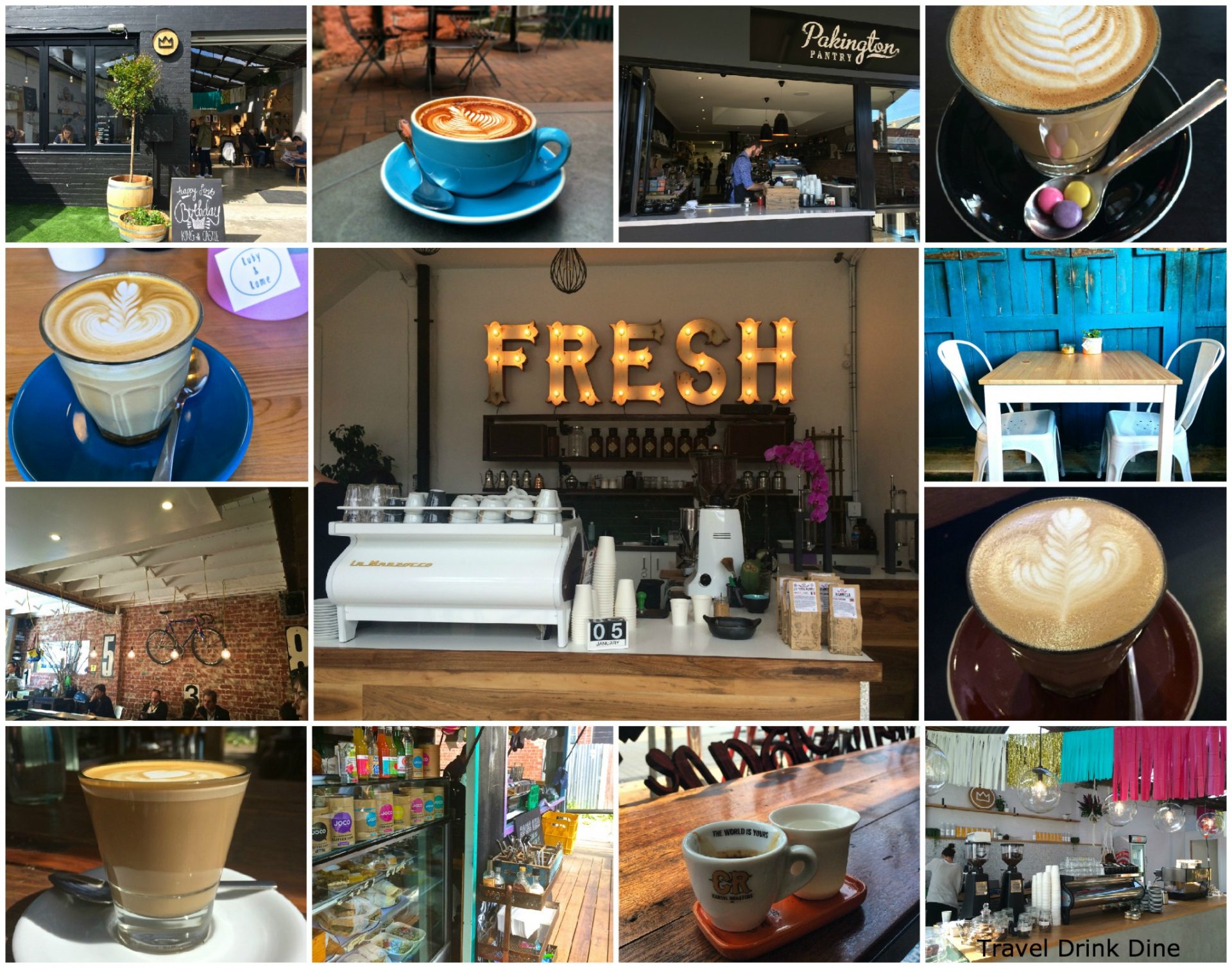 The coffee houses of Geelong are brewing up some serious coffee, the gauntlet has been well and truly thrown in this town and competition is bustling – the winners here are Geelong. No longer do you have to travel up the road to Geelong's big sister Melbourne to get a good coffee, as Geelong's coffee scene is coming of age. If you haven't experienced Geelong's coffee culture then it's time you joined the party.
Geelong is a city with a penchant for good coffee and with the rise of the boutique cafe sprouting up all over Geelong, it's clear to see that this city takes their coffee experience very seriously. Geelong has gone through an incredible change over the last couple of years and the resultant coffee scene is edgy and passionate, you won't find a Starbucks anywhere in this town. Instead you will find baristas at the helm of some hardcore machines working their magic and striving for excellence in every cup. Healthy rivalry is alive and well, with venues looking for that unique angle to go hand in hand with that superb coffee you are about to order.
If you are an out-of-towner then you may need to follow your nose, ask a local or at the very least arm yourself with a map, as hidden down the lane ways and side streets, is where you will find the best coffee houses of Geelong.
Cartel Brew Bar (Coffee Cartel)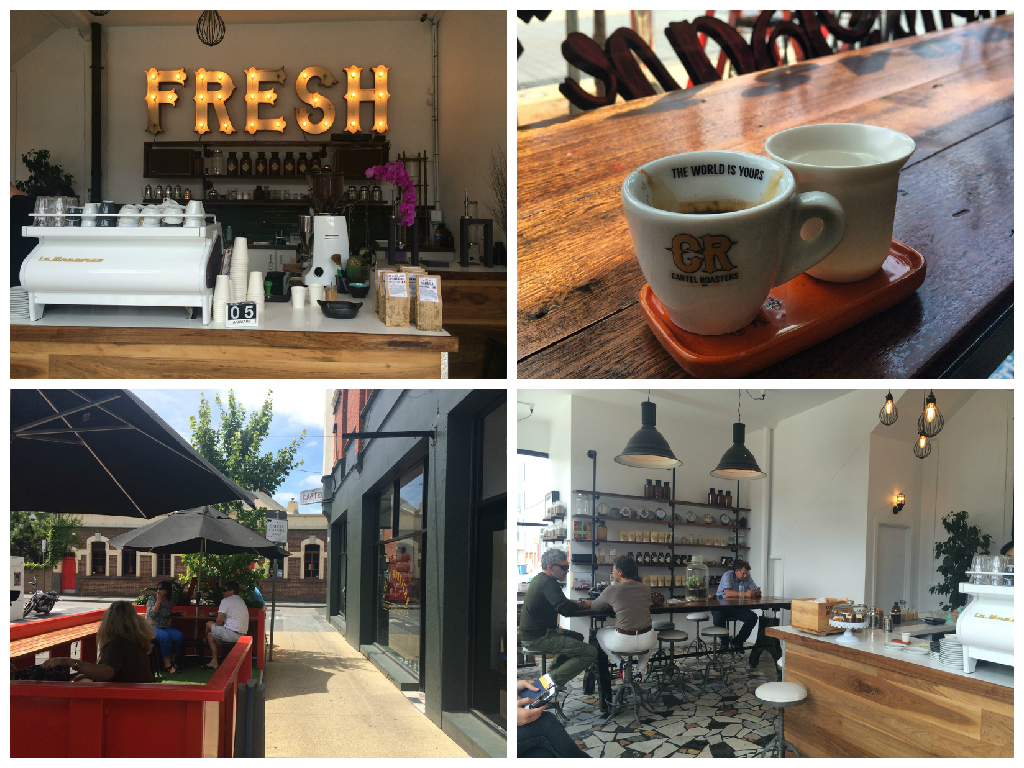 Coffee Cartel has been an institution in Geelong for some time having set up their speciality coffee roasting headquarters in Breakwater. The new addition of their Cartel Brew Bar in the Geelong CBD has provided Geelong with it's very own bar style coffee experience. The venue enjoys an enviable corner position with views to the foot traffic outside via large sunlit windows and the space is fresh and stylish.
Coffee Cartel is a haven for the coffee enthusiast – you walk in for a coffee and you walk out with an education. Baristas are more than eager to explain to you with passion, all about their coffee, even if you don't know your blends from a single origin. If you are an espresso virgin then you will want to be in the hands of the Coffee Cartel for a memorable first time experience. Consistently brewing and roasting the best coffee in Geelong or as some may possibly argue the best in the land.
Where: Corner of Little Malop and James Street, Geelong
Bean: Cartel (Sourced and roasted by Coffee Cartel)
Hours: Mon-Thur 7 a.m to 5 pm, Fri-Sat 7 a.m to 5.30 p.m, After 7 p.m training for the enthusiast & professionals.
A spot for Joe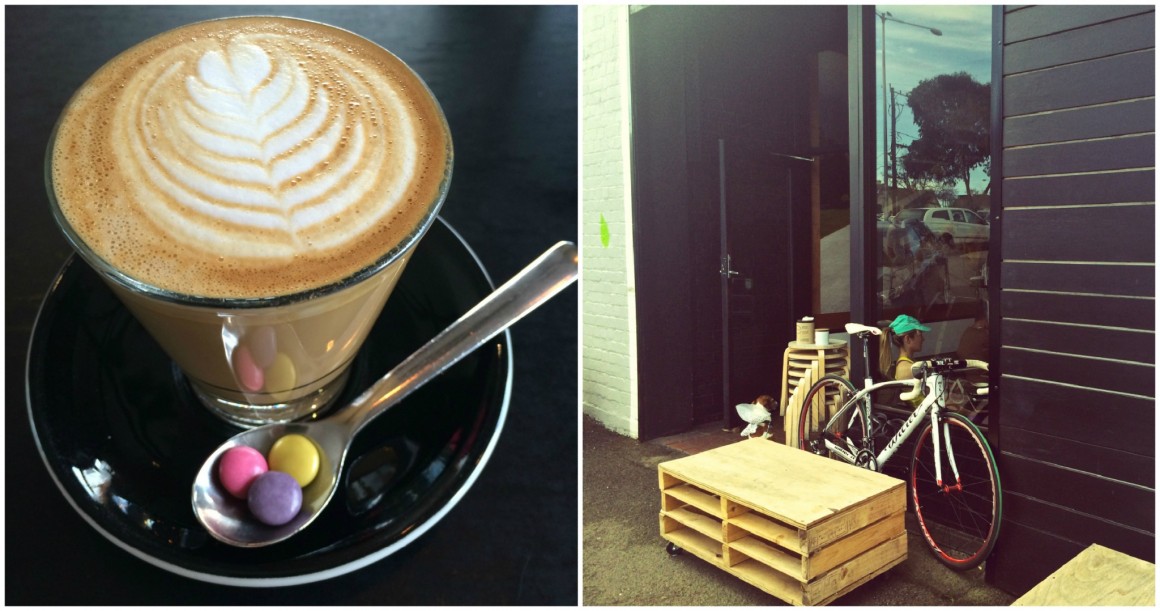 Looking for a cup of Joe? Hidden away in a building at the back of a car park, is A Spot for Joe. Receiving no foot traffic or passers by due to it's position, one might feel this would hamper business – not so. A Spot for Joe is a coffee destination and as such has built up a loyal following. A small coffee speciality cafe serving darn good coffee (also served with smarties and chocolate freckles) and mouth watering food to match.  If you have a hard time resisting your sweet tooth then you are going to be in trouble here – those sweet treats will be calling your name! A Spot for Joe exudes an industrial meets Palm Springs look, with a communal table in the centre and podium seating to the back. Bring your laptop, bring your toddler or bring your dog, this place is just your friendly neighbourhood get together over a cup of 'Joe'.
Where: 35 Little Ryrie Street Car Park, Geelong
Bean: Dukes
Machine: Slayer
Hours: Mon-Fri 7.30 to 4 p.m Sat 8 a.m to 2 p.m
King of the Castle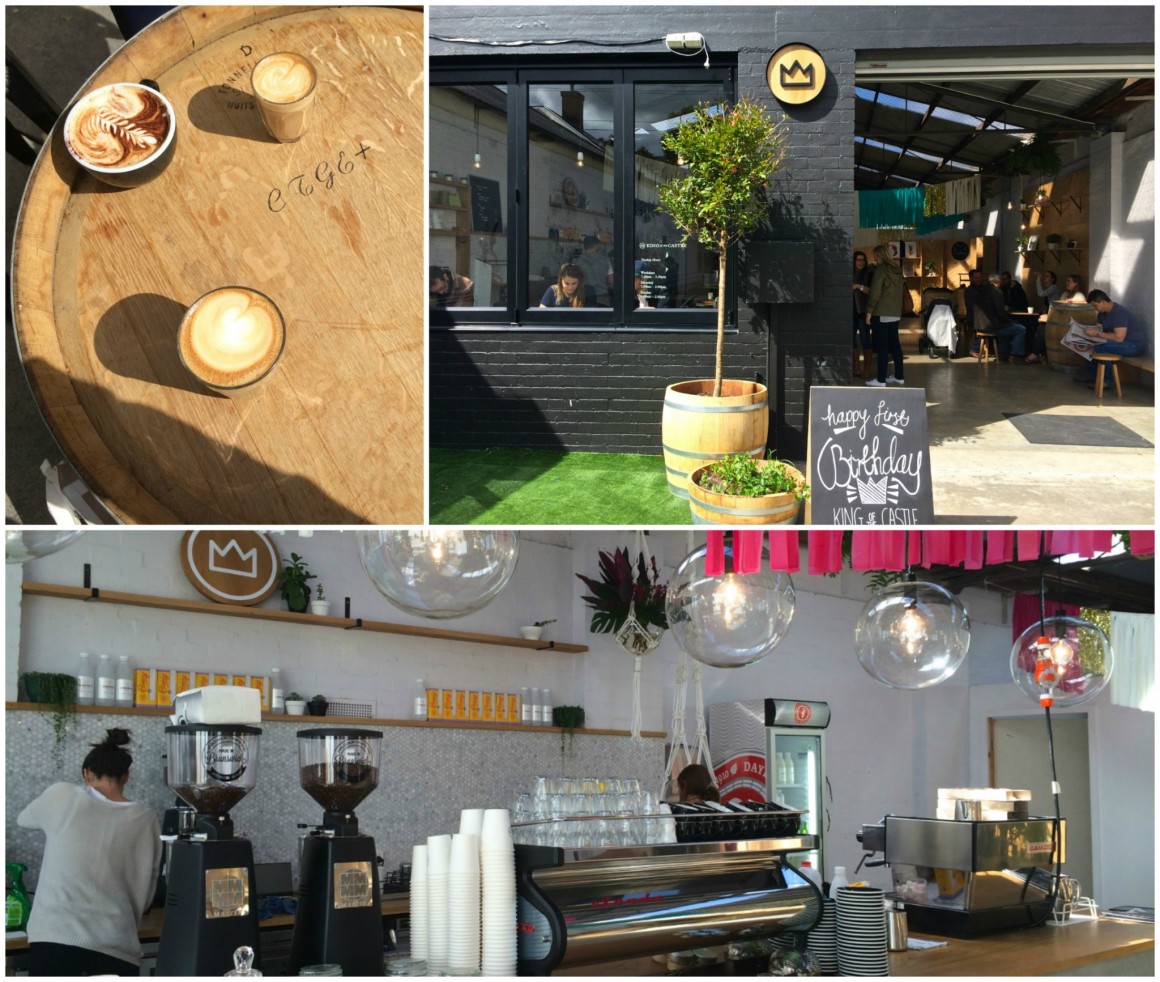 Think modern industrial meets showroom and you will happen upon King of the Castle. A caravan, fake grass and bean bags greet you on the stroll up to this little kingdom, set at the back of a lot. The building may look dark from the outside but receives streams of sunlight through the windows and roof, giving it a crisp and fresh feel inside. The large room is sparse, floors are polished concrete yet this place is cosy. The staff are fun and look like they are having a good time behind a large island bench – that's where all the action happens. In the background are some great tunes playing – even Dolly Parton's Jolene pumping through the venue somehow seemed cool! King of the Castle also incorporates 'pop up' vendors and a new addition is the resident barber. King of the Castle has indeed created it's own kingdom of loyal subjects – families hanging out on the lawn, chilling on the bean bags and the hipsters (yes I said it) sitting by the wall catching a few rays. This place is always packed on the weekends, you could almost mistake it for a bar with the vibe it's got going on.
Where: 24 Pakington Street, Geelong West
Bean: Padre
Machine: La Marzocco
Hours: Mon-Fri 7 a.m to 3 p.m, Sat 8 a.m to 2 p.m
Fuel

Walking down dead-end alleys doesn't always lead you into nowhere. From this unassuming alley way you will spot a constant stream of people flowing in and out of Fuel getting their coffee fix. The venue is popular with the business set from neighbouring buildings, uni students and shoppers looking for a quiet haven. Set in an industrial style building with exposed beams and brickwork, with a theme centred around wheels – bicycle and motor bike paraphernalia adorn throughout. Fuel is a little cozy oasis in the city, where you can sit down, enjoy your coffee and forget about the world that awaits you outside. Fuels reputation for good coffee is well deserved – they always get it right.
Where: 2 Gore Place, Geelong.
Bean: Campos
Machine: La Marzocco
Hours: Mon-Fri 7.30 a.m to 4 p.m, Cash only
Box Office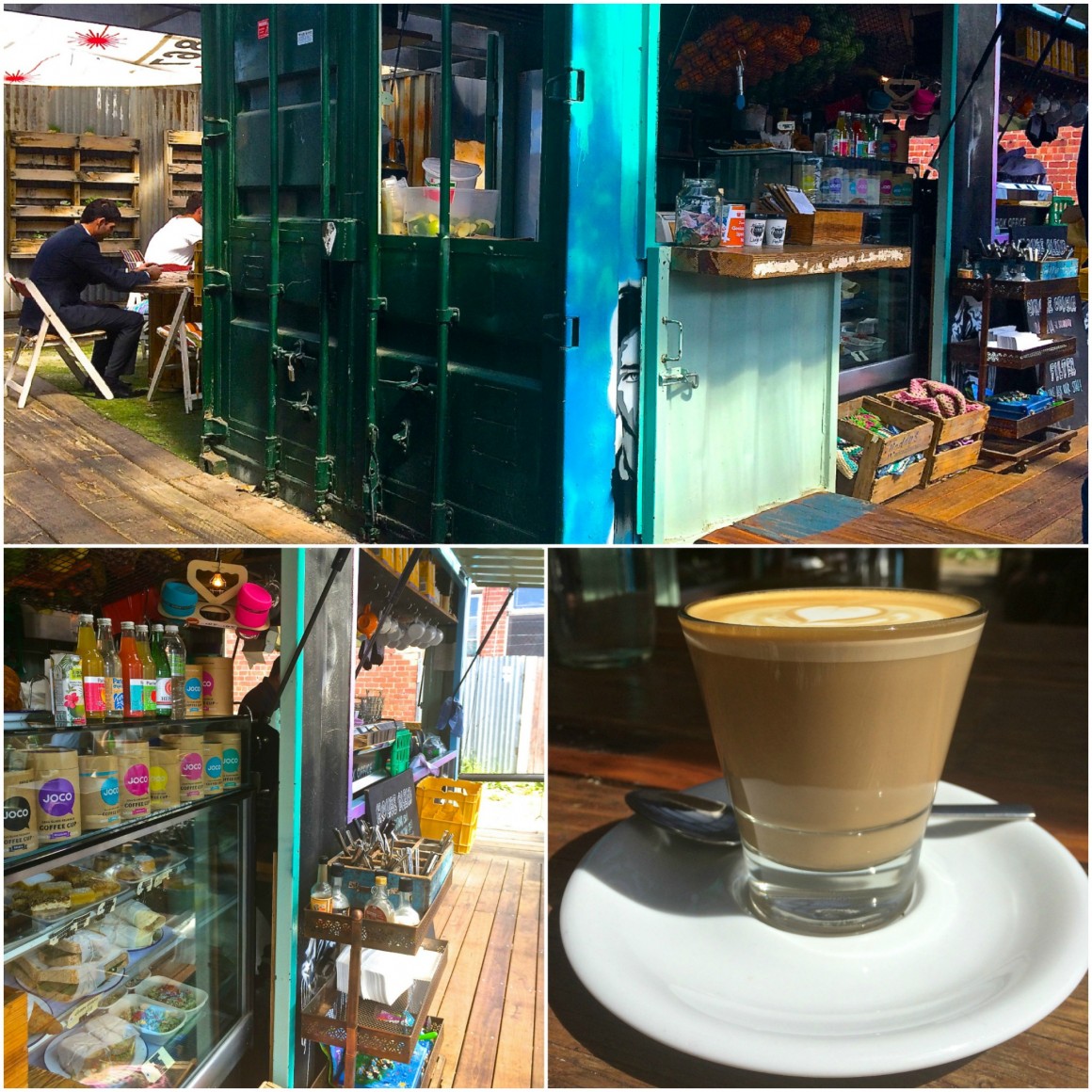 Looking for that place that is just right out of the box? Then get your coffee right out of a shipping container at Box Office. It's quirky, it's eclectic, it's like fossicking through someones old shed. Box Office has brought something unique to Geelong, with it's semi-enclosed structure built around a shipping container – where rustic meets industrial and all works perfectly. Serving coffee to perfection and great food, Box Office sets out to showcase the regions finest produce on offer. Even when it's cold this place is still popular, if you feel the cold then you can fossick through one of the boxes and find yourself a crocheted granny rug to keep your knees warm.
Where:  77 Preston Street, Geelong West.
Bean: Axil
Machine: Synesso
Hours: Mon-Fri 7 a.m to 4 p.m, Sat-Sun 8 a.m to
Blue Door Espresso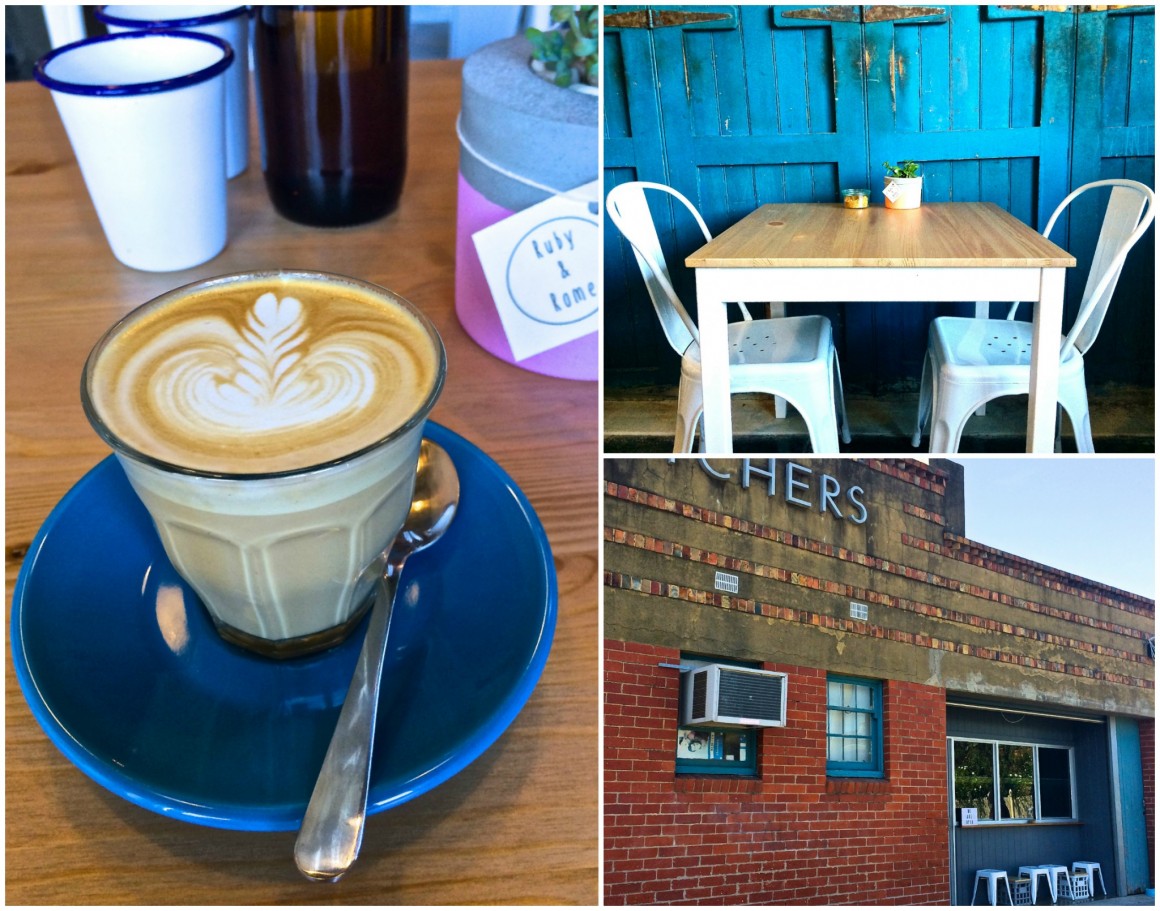 What's behind the Blue Door you ask? Great coffee with fantastic service, that's what you will find at the Blue Door Espresso. The new kid on the block to Geelong's coffee scene and it is well worth the foray into suburbia to find it. Housed in an old disused butchers building, the owners have given this old beauty a fresh new modern look, whilst still retaining it's heritage features. Already gaining a fast following, this place is serving up the goods. Not only will you find great coffee but there are some unique menu items being served here. How many of you will be driving across town to get your fix of bacon pancakes – yes folks that's right bacon pancakes! Bring the whole family for breakfast, even bring your dog (just don't let fido know about the bacon)
Where: 1A/205 Skene Street, Newtown
Bean: Seven Seeds
Machine: La Marzocco
Hours: Mon-Fri 7 a.m to 4 p.m, Sat-Sun 8 a.m to 2 p.m
Pakington Pantry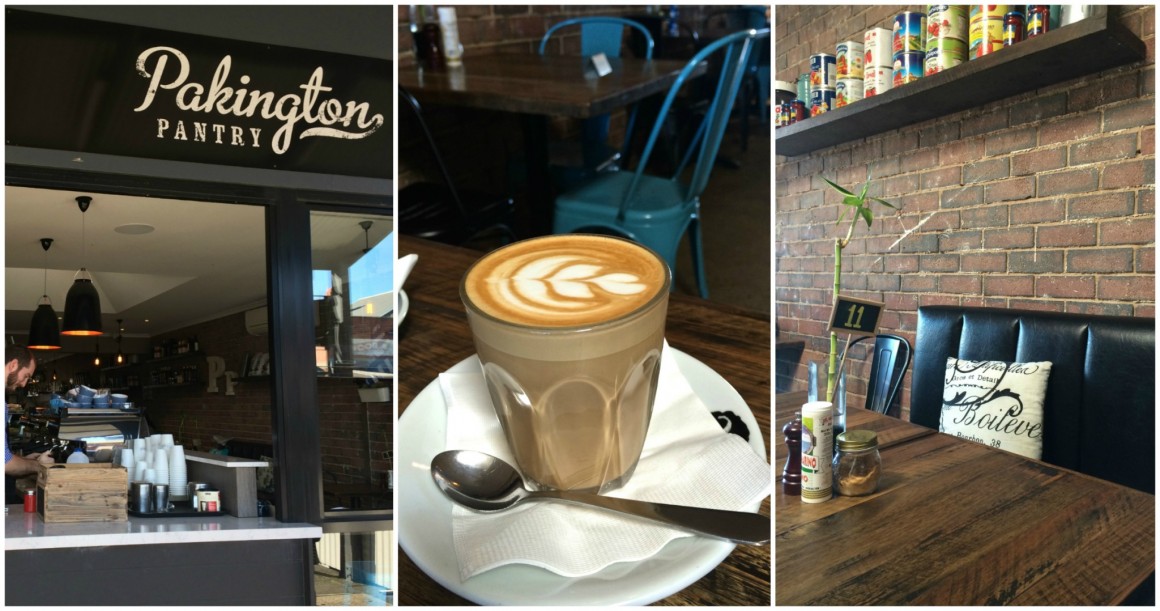 Located in the Paris end of Pakington Street, Pakington Pantry is a perfect set up. The cafe appears seamless with the street, where you can wander up and order your coffee from the footpath. Inside it's a sleek look, decorated in dark tones and on the walls you will find shelving with neatly placed pantry items. The barista is right at home with being on full view and he commands a captive audience as he delivers on the coffee. The friendly wait staff in the cafe whizz around in crisp checked blue shirts and serving delectable food. A great spot for that lazy Sunday brunch.
Where: 3/328 Pakington Street, Newtown
Bean: Ducale
Machine: La Marzocco
Hours: Mon-Fri 7.30 a.m to 3.00 p.m, Sat-Sun 7.30 a.m to 3.30 p.m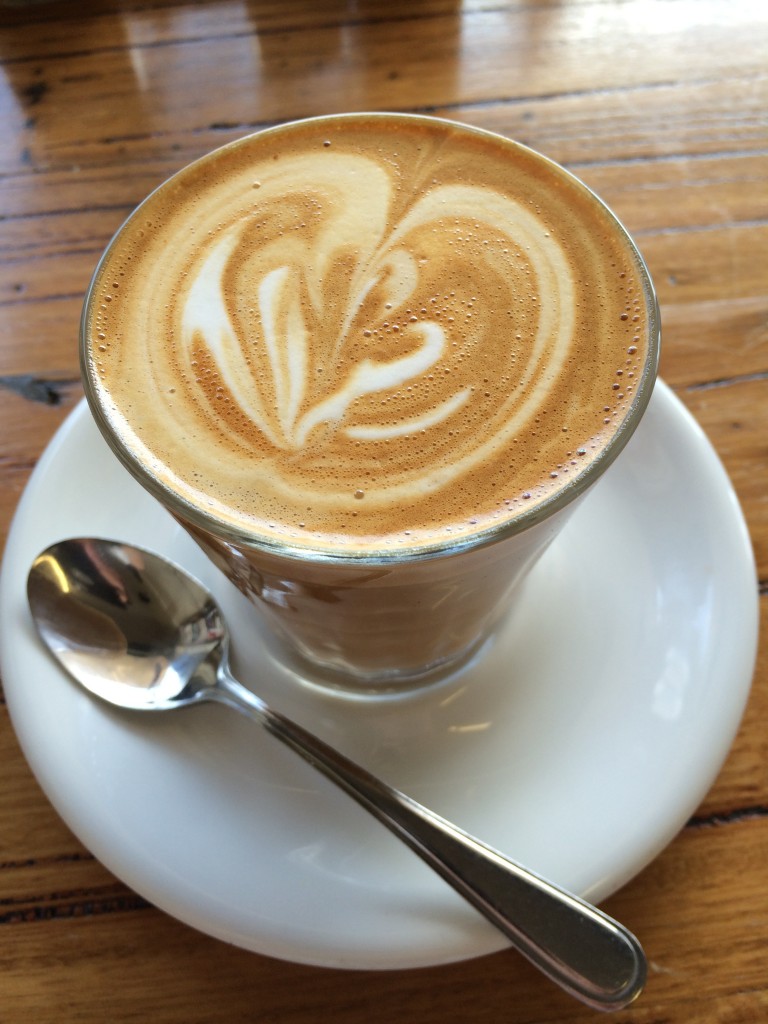 Have a different opinion?
Where do you consider Geelong's best coffee?
* This article will be added to from time to time to keep up to date with Geelong's newest and best coffee venues.