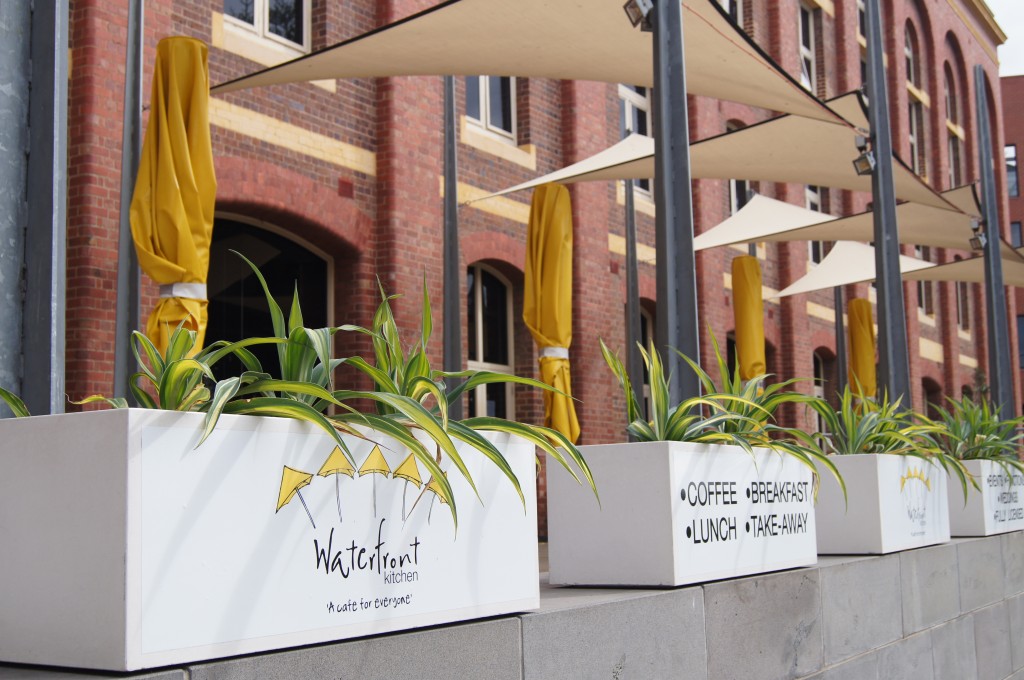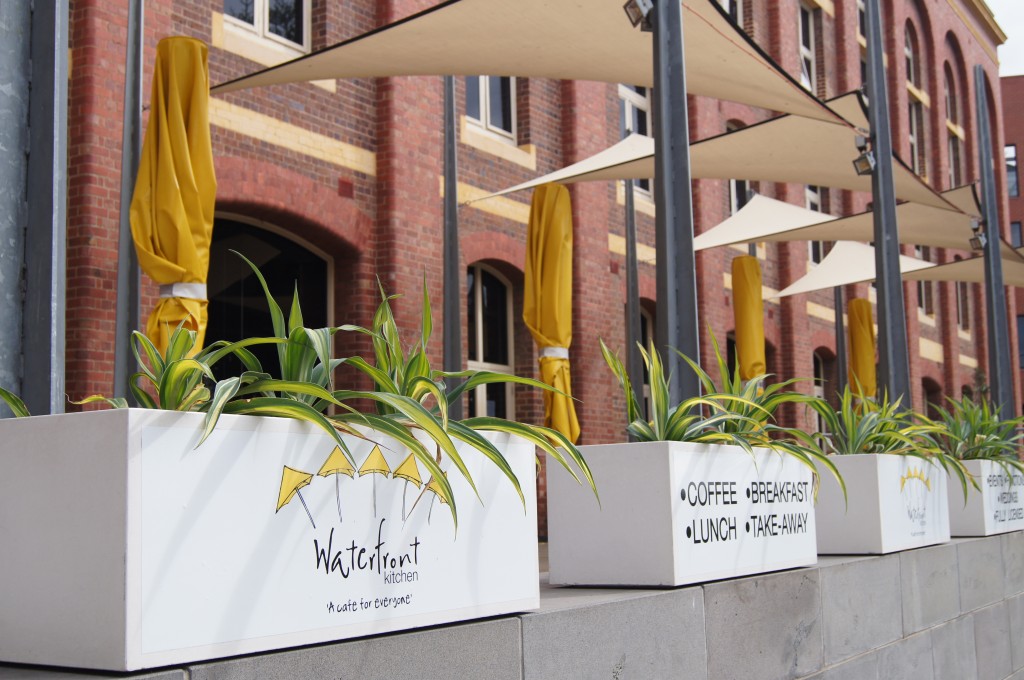 I had lunch at the Waterfront Kitchen in Geelong a couple of weeks and the first thing you notice about this cafe/restaurant is the eye-catching bright yellow umbrellas shading an alfresco dining area. With a slightly elevated position right across from the bay and Cunningham Pier, this makes for a perfect spot to have breakfast, lunch, coffee or a wine with a beautiful view.
Set within Deakin University, this restaurant is operated by the renowned Truffleduck and offers a number of different dining options. From something quick and light, to take away or a full bistro experience. The alfresco dining area is styled with bright yellow and charcoal seating and padded bench seats along the planter boxes that separates the diners from the footpath traffic. Tables are nicely spaced out creating an element of privacy within a public area.
We were attended to immediately after walking in from the street,  and ushered to a seat of our choice.  We chose a seat against the planter boxes which were not under cover as it was a lovely warm sunny day. Our waiter was an older gentleman who was very attentive and we enjoyed his playful banter. We proceeded to order some wine but found the bottle we ordered was unavailable and the waiter offered a more expensive bottle of wine for the same price as the original one. We then decided on a third wine and opted for just a glass each. When the waiter returned to inform us that they had found a bottle of the original wine we had ordered – after some indecision, a confusing discussion, and a little laughter, we finally went with the first bottle!
Perusing the menu, there were plenty of good choices including vegetarian and gluten free. I ended up settling on the Viet Street Chicken. This was served on a high bed of crispy fried noodles together with carrot, cucumber, coriander, red cabbage, bean shoots, Thai basil, crunchy peanuts and nuoc mam. My dining partner (who this time was my mum) went for a gluten free choice of ancient grains, consisting of quinoa, smoked almonds, beans, roasted capsicum, roasted pumpkin, Persian feta and sticky pomegranate. Both were presented very well and the flavours from my dish all worked perfectly. My chicken was tender, the nuoc mam sauce very tasty and the salty and sweet elements were balanced perfectly.
Just as our meals were served, a sudden sprinkle of rain began, so our waiter swiftly moved our table under the umbrellas, to shelter us and our meals from the rain, and strangely enough a few hail stones came out of nowhere! Then within minutes the rain was gone and the sun back out! That's Geelong weather for you! Onto dessert, lots of choice but we were sold convincingly by our waiter who talked up the many flavours of gelati. I went for the salted caramel and my mum went for our waiter's favourite, lime. The salted caramel was divine and a perfect way to end our lunch.
A waiter can make or break a dining experience and ours was brilliantly attentive along with being quite jovial – he looked like he was having as much fun as the guests! Our overall experience was an excellent one – lovely food, a good bottle of local wine and a magnificent view to gaze upon!
The restaurant is fully licensed and they have a nice selection of local wines and local craft beer.
Waterfront Kitchen is open seven days a week from 7 a.m to 5 p.m weekdays and from 8 a.m to 3 p.m weekends.
Located at:
Deakin University
Western Beach Road
Geelong Victoria
Ph: +61 (03) 52278641